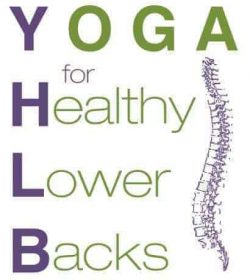 Offering hope for those wishing to learn how to help themselves. Empowering people to improve their long-term comfort, health & well-being.
Scroll Down to Choose from 6 Sections
Scroll Down to Choose from 6 Sections
Yoga for Healthy Lower Backs (YHLB) is a not-for
profit social enterprise. Thanks for your support and interest.
About YHLB
Educational social enterprise.
Supported by charity Versus Arthritis (formerly Arthritis Research UK).
YHLB Yoga used successfully in large randomised control trial led by York Trials Unit, Department of Health Sciences, University of York, funded by Arthritis Research UK (now Versus Arthritis).
Public Health England list this specific yoga programme as one of 7 evidence-based innovative interventions that would be likely to offer those commissioning/ offering it a good return on investment (PHE MSK ROI report and tool can be found online).
'Yoga for Healthy Lower Backs' (YHLB) Evidence-based Specialised Programme is:
12-class specialised back-care course taught over 3-4 months
Gentle, beginner-friendly, mind-body group classes
Cost-saving, health-promotional, life-long treatment option for a costly, prevalent and long-term condition
Offers substantial benefits to general public / individuals, communities, NHS, employers, Public Health, healthy living / prevention / self-management schemes, +++.
Workplace cost-effectiveness evidence (Spine Journal).
Yoga for Healthy Lower Backs Training. We support and train already-qualified and experienced yoga teachers in how to deliver the specific quality-assured YHLB programme, whilst uniquely keeping to the strong evidence-base.  Nationally, we are approved by the yoga governing body for Sport England and Sports & Recreation Alliance, the British Wheel of Yoga, as a Recognized Centre of Excellence for Training and Standards.  To find one of our 300+ self-employed YHLB qualified teachers, go to our 'Find a Teacher' page.
The lead yoga teaching consultants on the original research trial management team wish to share this information – thank you for telling others about our website and courses.