Please click the "Add to Cart" orange button, above, to add this CD to the shopping cart. Then press checkout on the next page.
Postage and Packing rate – £3.50 for one CD despatched to a UK postal address.
Delivery time: Allow up to 14 days. Thank you for understanding that part-time social enterprise volunteers send out your items as soon as they can.
OVERSEAS ORDERS  Please contact us for postage and packing rates, stating item(s) required and Country destination. You will receive an email invoice.
BULK ORDERS Please contact us for special rates, e.g. for workplace health and wellbeing.
We apologise but this item is non-returnable, as we are a social enterprise set up to spread the word about this yoga's benefits. Thank you for your understanding and we are sure that you and/or others will benefit from and enjoy using our educational resources that were found to work well for those in our research trial.
Description
YOGA FOR HEALTHY LOWER BACKS – RELAXATIONS ALBUM (CD version) =
Yoga Relaxations Audio Album – 4 Tracks + Cover
Back pain?
– Invaluable aid to learning how to relax the mind, release tension / discomfort, and keep stress at bay.
New to yoga or relaxation techniques?
– An ideal way to start relaxing at home.
Already attending yoga classes?
– Enjoy taking your end of class experience home. Keep stress, tension and discomfort at bay between your classes or during class breaks.
Previously attended 'Yoga for Healthy Lower Backs' course?
– You may like to have these digital download versions of the YHLB Relaxation tracks for home use, whilst at the same time supporting our not-for-profit social enterprise.
Yoga teacher?
– You deserve to treat yourself and may also learn teaching techniques appropriate to relax mind and body, especially for those with back problems. Your students will become better at Savasana and realise its potential by getting these audio tracks for practising at home – they may enjoy your class Savasana even more and yet will also have the tools to continue to keep calm and tension-free at home between your classes.
'Stand-alone' tension-relieving / de-stressing / pain-relieving tool.It can also be used after a pain-relieving yoga pose and as a guide to focus attention / become mindful after a yoga practice.
Exclusively available via this website.
YHLB Relaxations Album sales will contribute to the maintenance of this website and to education about our evidence-based 'Yoga for Healthy Lower Backs' yoga programme. – Thank You for Your Support for our not-for-profit social enterprise.  We appreciate it.
See below for the best positions for lying to listen to these yoga relaxation CD tracks. Absolute comfort is important, so do not remain in an uncomfortable position.
The audio tracks talk you through how to get comfortable lying on your back as shown below. Please consult a yoga teacher for advice on how to get more comfortable. It is possible to listen to the tracks whilst sitting symmetrically in an arm-chair, but being horizontal is generally better. It is also possible to listen to the tracks whilst lying on a bed, but the firmness of the floor is better for alignment of the body and joints (try putting even padding underneath you, if the floor feels too hard).
Exhale when you move to enter and exit the positions.
1. Most Useful Position for Yoga Relaxation if you suffer from lower back problems
Lying on back; calves on a chair-seat; block/book or folded towel/blanket under head.  Absolute comfort.  Enough flat and even padding on floor. (Choose this position always unless a yoga teacher has shown you another position as below.)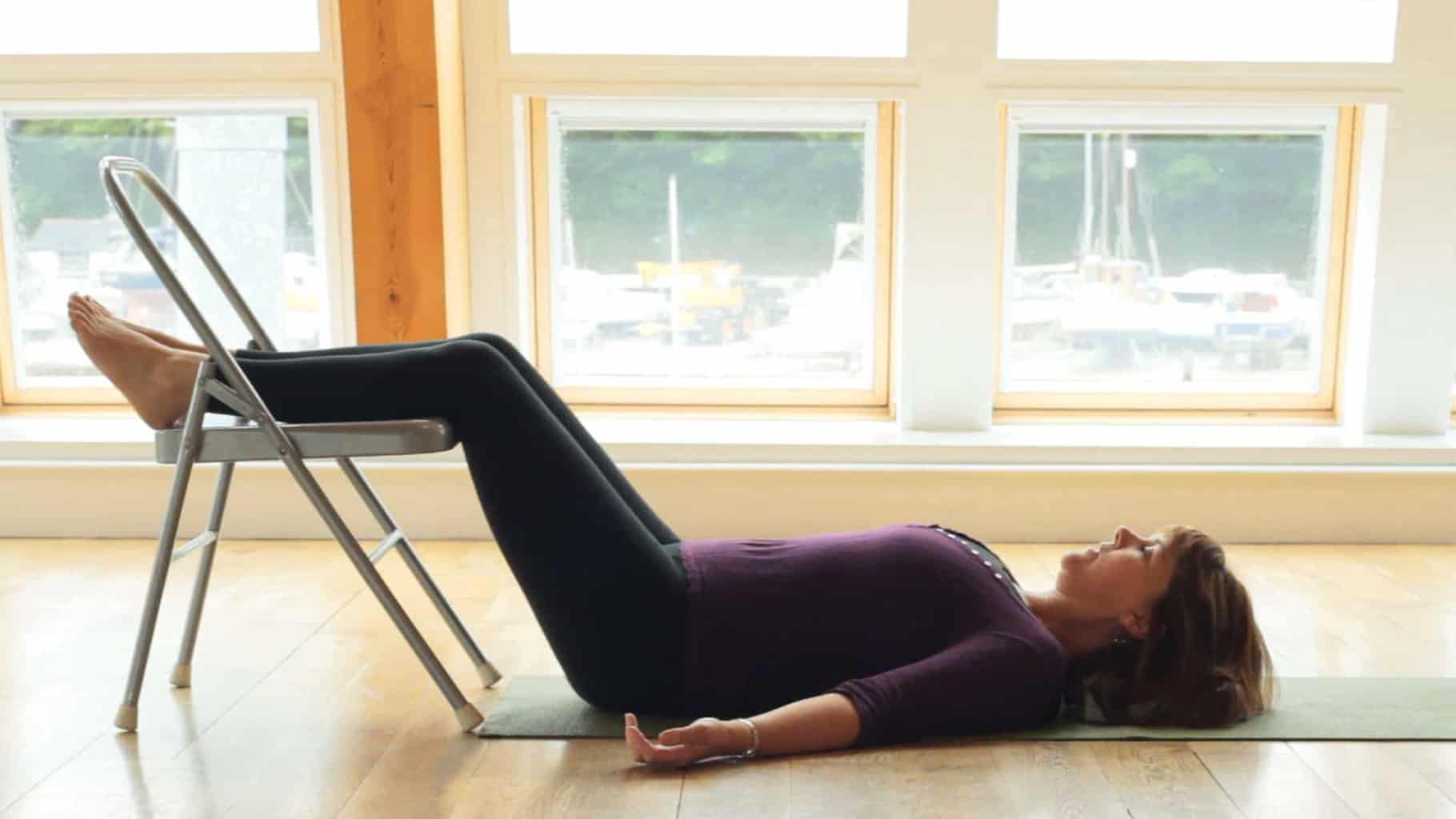 2.  Lying on Back with Pillow under Knees and Block/Book or folded Towel/Blanket under Head. (Useful alternative to above.)
3. Lying Back Along a Lengthwise Pillow; Block/Book or folded Towel/Blanket under Head.  Useful for sacroiliac problems.  (A qualified teacher will show you how to get comfortable.)
4. Lying Prone (Shown with Pillow lengthwise under whole trunk. )(Useful for disc problems)
5.  Variety of Yoga Relaxations Positions with Appropriate Props.  Class situation where teacher has shown different positions for different people. 
Please click the "Add to Cart" button below to add this CD to the shopping cart. Then press checkout on the next page.
£19.99Add to cart