YOGA for Healthy Lower Backs – Research Update – June 2013
Over 1,100 Subscribers

Thanks for your continued interest and support!  Your help to raise awareness of our

www.yogaforbacks.co.uk

 site contributes to us currently welcoming 100 visitors a day – thank you for continuing to share this link.
| | |
| --- | --- |
| | Sharing with the Attached Leaflet |
| | |
| --- | --- |
| | We attach our 2013 'Yoga for Healthy Lower Backs' Tri-fold Information Leaflet – which can also be downloaded from the website.  Please forward it and pass it on. It can be usefully emailed or handed to those with back pain, Healthwatch patient groups, yoga teachers, GPs/doctors, complementary/alternative health centres, sports centres, doctors' surgeries, physiotherapists, occupational health departments, HR departments, conference delegates, public service departments, and more.  Due to the holistic nature of yoga, our programme addresses the health and wellbeing of the 'whole person' – this coupled with the fact that more than 80% will suffer back pain, means that the information is relevant to the majority of people! |
Our 'Yoga for Healthy Lower Backs' (YHLB) programme offers an ideal and enjoyable and appropriate entry-point to yoga.  As well as gaining gentle, basic groundwork knowledge, the 12-week course motivates and equips students to practise at home and to integrate simple postural and breathing techniques into their daily life.  Some go on to join general yoga classes.  Almost without exception, course participants say YHLB has made a positive difference to them in some way, and trained teachers are finding it rewarding work.
Many experienced yoga students/teachers attending YHLB courses have reported :
– " I'm loving my general yoga classes much more now that I understand how to work appropriately for my back – the maxim 'Optimum, not Maximum' means so much to me"
– "I benefitted greatly from the 'back to the source' groundwork of yoga attentiveness and mindfulness"
– "I really appreciate the course's educational resources and at last I have been motivated to practice at home".
Raising YHLB Teacher Numbers

There are 220+ teachers who have either completed or are currently training via the full 4-day teacher training courses. Slowly but surely, after training/studying/mentorship whilst acknowledging the importance of quality and standards, more are added to the Teachers' Lists.  Most teachers on the 'Trainee List' are teaching YHLB under mentorship.Anna runs 1-day BWY IST trainings – 

http://www.yogainyork.co.uk/workshops.htm

After a hiccup over snow cancellations, we are back on track with new TT courses:

Stirlingshire (near Trossachs Scottish national park) in May/September
Hertfordshire (near London Stansted airport) in June/September
London in August/November
Edinburgh in September/December

If these book up, there may be another for 2013 and more in planning for 2014.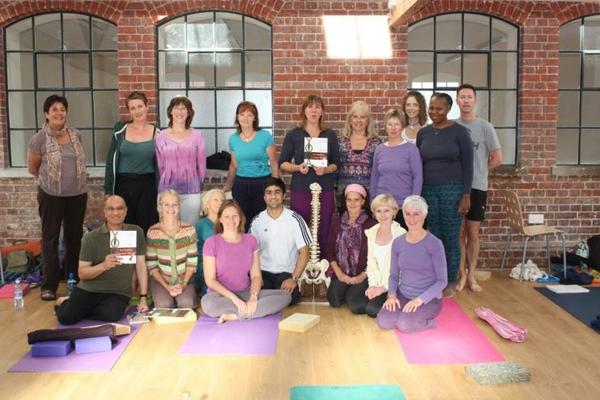 | | |
| --- | --- |
| | Teaching Teams |
| | We want to present ourselves in a professional way by working in teaching teams. Cornwall and Devon are ready to work in this way and many more areas are working towards following suit with our central support.  Those seeking YHLB classes will soon be able to click 'CORNWALL TEAM' on the website's Teachers' List to view a page with area contact, days, times and locations of classes. This will improve life for teachers, potential course attendees and referrers. |
| | |
| --- | --- |
| | More Teachers are needed |
| | We would encourage more teachers to join, especially experienced or senior therapists, training tutors and yoga therapists. YHLB has the most significant evidence-base behind it of any yoga course.  YHLB is not a 'style' of yoga, it unites yoga as one and was designed to be (and is being) taught by teachers from many differing methods/schools. |
BackCare UK – charity

We have been working in partnership with BackCare UK's Research Director.  An article written by Alison and printed in their magazine 'TalkBack' is good to share and can be viewed via their online version by following this link

http://issuu.com/backcare/docs/talkback_winter_2012-13

YHLB was featured on their exhibition stand at the Back Pain Show 2013 in London and also at the 'Health and Wellbeing at Work 2013' at the NEC in Birmingham (photo below).  Alison spoke to large audiences, including a radio interview, and handed out 1000s of our Tri-fold Information Leaflets (including one to Sally Gunnell).  Scientific research papers showing The University of York's YHLB research were displayed – these were designed by 4th Year medical school students (Rebecca and Conor) that Alison tutored.
| | |
| --- | --- |
| | Conferences |
| | As well as the above, Alison has attended numerous other conferences.  YHLB leaflets and/or Relaxations CDs have been handed to many people, including the Chief Executive of the UK's NHS Sir David Nicholson and the leads of the Department of Health's AQP project.  Health and Wellbeing Boards and Clinical Commissioning Groups are becoming aware of the potential value of YHLB too and we are stakeholders for NICE guidelines. |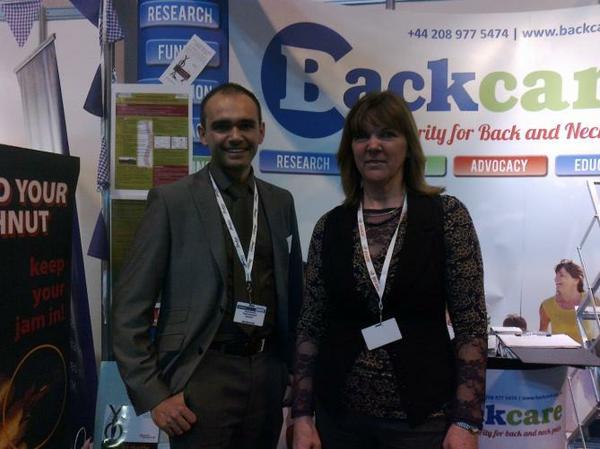 BWY Published Review of Yoga

The British Wheel of Yoga commissioned Sheffield Hallam University to compile and publish a review of yoga research.  It is interesting reading and can be viewed by following this link here:
http://www.bwy.org.uk/research/

Of note, is that there is a recommendation to aim for more 'gold standard' randomized controlled trials, such as the one we were involved in led by The University of York.
Arhritis Research UK Review Of CAT

Arthritis Research UK funded our YHLB research and they recently funded a published review of Complementary and Alternative Therapies.  Within the review, based on past research, there are very few therapies which got the 'Green Light' and high rating for low back pain by having significant and robust research evidence behind it, but we are delighted to say that Yoga was one of the three recommended in this way.  This report is available as a digital booklet here:

http://www.arthritisresearchuk.org/news/press-releases/2012/august/yoga-a-cost-effective-treatment-for-back-pain-sufferers.aspx

In a 2012 issue of their 'Symposium' mail-out to UK health professionals, there is editorial about our yoga research with its 313 participants.
| | |
| --- | --- |
| | CD Sales – Health & Wellbeing at Work |
| | Sales of our YHLB Relaxations CD help us to continue to promote and educate about our project, i.e. to make sure this yoga research benefits more people!  We are working on a difficult budget, relying on people's goodwill offers of help (and Alison's 24-7 dedication) and it would help us to be able to have a part-time person helping with our enquiries and workload.  More CDs being in more people's hands = continuing promotion of our work.Perhaps you know of someone who might benefit from ordering our CDs in bulk: How about the Head of HR at a large company? Do you know County Councils who would like to help their staff with stress levels by offering this CD?  Might you know a buyer for a shop chain?  Ask them to contact us.  Thank you for your help. |
| | |
| --- | --- |
| | CD & Book Distribution |
| | Thanks to Karen for doing such a sterling job of our CD and book orders and P&P plus now invoicing for teachers' orders. |
| | |
| --- | --- |
| | Join our community on Facebook |
| | Our 'web guy' Mark did a great job of setting up our YHLB Facebook page last November, but Anna and Alison do not have much time available to work it to best advantage.  Thanks to those who are helping with contributing to its networking potential.  It can be searched for and is called Yoga for Backs.Click the blue F button link below, and then click the "Like" button (top right of the page) to join us and get involved with our new Facebook community. |
Please Recommend our Web Developer

We recommend the website development, email, newsletter, search engine optimisation, social media and marketing services provided by Mark Richards from The Creative Agency.Mark has positioned us at the top of Google, worldwide, on searches for "yoga for backs" and also at the top of Google UK on the search phrase "yoga for back pain" and "back pain yoga". We also rank high on a wide range of other relevant phrases that bring hundreds of new visitors to our website every week.The website itself is easy to modify ourselves. We are able to edit all of the pages on our website through a simple interface. We are confident in the knowledge that whatever we do, we won't break the design. This allows us to make regular updates ourselves with peace of mind.

If you know anybody who is looking for website or marketing services, then please pass on his details:
Mark Richards
+44 (0)7017007808
http://www.thecreativeagency.com

Thank you for reading this and sharing this newsletter with others – how about sending it to contacts in your mail-box?  We hope you think we are still moving in the right direction and are making good progress.  Thank you for all your interest and support – we greatly appreciate it.

Thank you for being Ambassadors, Champions and Friends of YHLB, helping to raise the profile of yoga.

Thank you.  Thank you.  Thank you!

Happy Yoga.
Alison Trewhela & Anna Semlyen