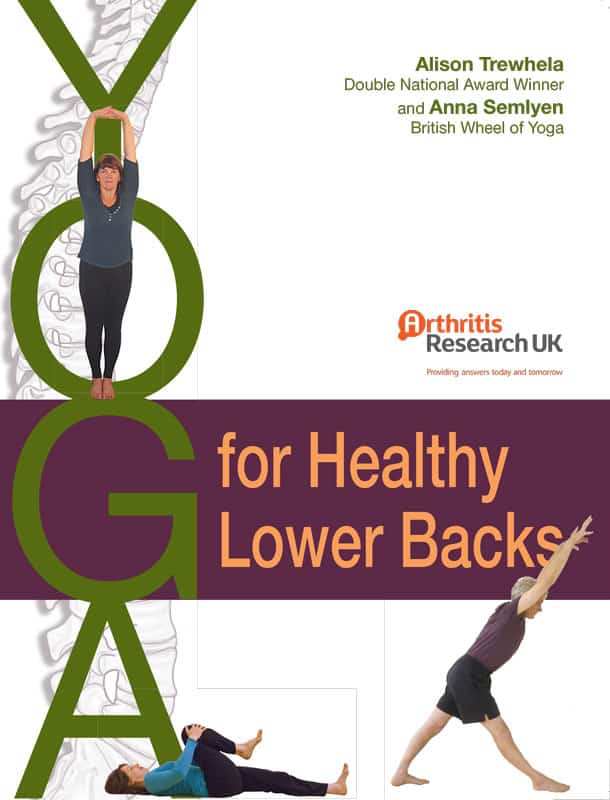 Price: £16.99
Please click the 'Add to Cart' button above to add this Student Manual to the shopping cart.
P&P rate £4.50.
Then press 'Checkout' in the right-hand sidebar.
For overseas orders, please order through our Contact the Authors page stating item(s) required (bottom of right-hand Menu).
Lotus Publishing kindly donate £1 for every book sale to this website's social enterprise.
YOGA FOR HEALTHY LOWER BACKS – Book
144-page book from Lotus Publishing. Instructions on appropriate yoga to gain and maintain the health of your lower back
Useful for those with mild or occasional low back problems.
Yoga teachers should not be without this comprehensive book.
Interesting for those students already practicing yoga.
Learning from this book is part of a 12-class yoga programme proven in a randomised controlled trial to be effective to benefit people with chronic / episodic / recurring low back problems. Yoga helps both the body and the mind and works preventatively.
Contains over 50 photographs; extensive information about how to perform the yoga; observations to be aware of once in each pose; and variations and benefits of each pose.
Chapters include:- What is Yoga; Yoga Research; How to Find a Teacher; Thank you for Committing to Yoga; Yoga for Your Daily Life; What to do if you get a Sign of a Painful Back Episode; Yoga Practice Sequences (x 5); Suggested Timetable of Daily Yoga Practice; Long Descriptions of Yoga Poses with Photographs; Twelve Weekly Class Themes; Anatomy of the Back; Warning Signs; National Yoga Organisations; Teacher Training; Authors' Vision.
This manual was first written for participants in a Research Trial run by The University of York and funded by the charity 'Arthritis Research UK'. The aim was to help yoga students practice effectively at home whilst on a 12-week 'Yoga for Healthy Lower Backs' course and also to remind them of how to practise well for life-long health forever. Minor edits have been done. This book is ideally used alongside a 12-week course of lessons with a 'Yoga for Healthy Lower Backs' teacher.
Edit to first print-run – Please note in Chapter 2 On Page 12 the words 'at 12 months' should be put at the end of the orange box.  Bottom of Page 13 should read as follows – 'Consequently, referral to yoga (2.17 points at 3 months and 1.57 at 12 months) seems to be at the higher end of rigorously-tested research treatment interventions that have been seen to be effective.'
Delivery within 14 days.
YHLB-Trained Teachers – For bulk orders of 5 or more books, please order through the Contact the Authors page (stating the year you were trained and the number of books you require).   We will send these to you without charging you for Postage, Packaging or Distribution Costs.
Price: £16.99